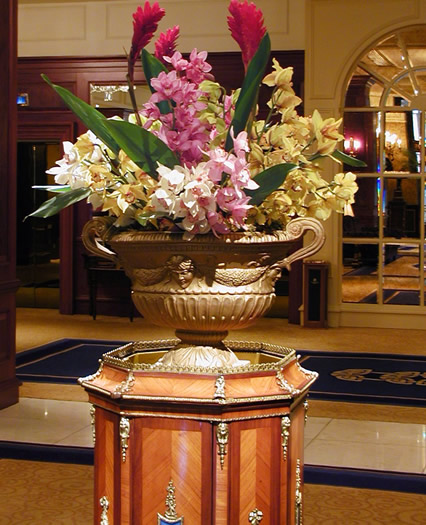 "Happiness held is the seed; Happiness shared is the flower", and what better way to share happiness and welcome a guest to your hotel than with a beautiful floral display, romantic rose petals at breakfast, or a simple bouquet in the room?
Flowers are key to hotel decoration, and are a simple way to make a fantastic first impression, and a lasting impression. After all, it's hard to resist a comment, or a smile on seeing a stunning floral centrepiece. From a floral display in the lobby, a single vase on the breakfast table, or grand centre pieces for a special dinner, the universal message flowers convey is that of warmth, welcome, and care. As such, it is essential that your floral decoration is carried out by a professional with experience, combining colours, textures, contrast and volumes with a twist of creativity. Guests remember the care you took to those special finishing touches for their stay with you.
Always discrete in our work, and working at times to suit your hotel, to ensure that no one is disturbed, we work magic with bud vases, petals, grand displays for lobbies, and smaller, simpler displays for reception or the concierge desk, all designed to enhance your hotel ambiance. It goes without saying that once the work is complete, all traces of the creative process will be taken away, so not a single leaf will be left behind a door or on the floor.
Let's not forget that staff also react to beautiful blossoming displays, being surrounded by them on a daily basis, their happiness, well-being is conveyed to your clients, ensuring guests feel comfortable and at home in your hotel. Working with the latest designs and trends, and with a great eye for attention to detail for every single flower chosen, your floral decoration will enhance the atmosphere of your hotel, and brighten up everyone's day.
Whether it's a standard display that is required throughout the hotel, for example, a particular theme dependent on the season, a particular event, or even a chain of hotels with one colour scheme, or quirkier displays that represent a hotel which markets itself on its individuality, I can offer displays to suit your requirements. Current trends include monochrome displays to maintain a single theme throughout the hotel, or colourful displays contrasted.
Get in Touch, we will meet and see what we can together achieve.